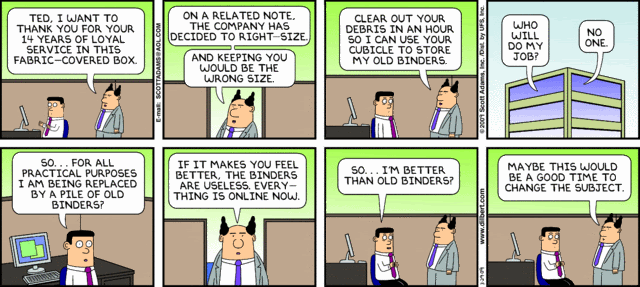 It's not a nice thing to watch people around you getting laid off.  860 people where I work just had their lives completely disrupted.  One of those people was somebody that had helped me get the job I have now.
September 07, after a fruitless job search over the summer and overseeing a kitchen remodel in the heat of Pasadena, a call from a recruiter brought me into the offices of Kaiser Permanente – Green St.  I started work on September 24th.  That job has been a blessing.  Two miles from my home.  Blocks away from the seminary school I had just applied to for a Masters Degree in Biblical Studies and Theology.  That job has helped make my one class per quarter studies at Fuller Theological Seminary possible, without going into debt.
People start to build their lives around a job.
For the people that are left after a layoff, there's the uncertainty of if there will be a successive round to contend with.  Goals in your job suddenly don't seem to matter as much.  Goals you might have had outside of your job suddenly seem to be on shaky ground.
For the people that are left, there's a guilt.  "Why did he have to be laid off and I was spared?," is a common question.  There were people who had worked on my floor who had been there for many years!  In some ways the cartoon above is one that comes with a cruel message – "Hey, your years in a job, your accumulated files in binders or folders. . . .they don't mean anything."  I've seen the empty cubes and I've seen those binders laying about haphazardly.
Today, a contractor I'd met months ago was finally let go.  It was the end of the month and her department was one of the ones hit by this change in strategy by my company.  It was strange sitting there as we said goodbye to each other.  You want to say something that will help.  You want to honor the moment, which for the person leaving in this economic downturn, is a pretty despairing one.  And then they are gone.
I couldn't stop thinking about it on the way home today.  NPR was broadcasting a story about the increased number of foreclosures and how the new element driving it now is unemployment.  Listening to the stories of people who tried to do the right thing and for whom circumstances have pulled the rug out from under them – it was really heartbreaking to hear.  There is no such thing as fairness in times like these.
Take that to the macro level with the way Wall Street pays very little or no price for its large part in this economic crisis, while workers in Michigan are forced out of their jobs or forced to make more salary concessions.  Why is there no visible outrage by the public for something so easy to understand?  A banker or a CEO can walk away from their jobs with $20 million but the contractor whom I said goodbye to this afternoon and did fine work for our company, she get little if anything.  The full time employees do much better in this layoff, but the point is, they aren't the people that caused this economic problem and they aren't walking away with millions of dollars to tide them over.
I hate Dilbert really.  The negativity and the glorification of meaningless in the work places such as mine is borderline nihilistic.  I get that there is value in the humor one can derive from even a crisis; it keeps it all in perspective.  Insights that might otherwise be missed in the same old routine can be surfaced and laughed at.  At the same time, I think we need something more.  Working people need something that reaffirms meaning in what they do – even as it exposes the nonsense.
Times like these are a reminder of the need to balance our lives so that not everything important is projected into our careers.  Times like these are also opportunites to reaffirm the meaning that is found where we work.  That meaning isn't in the binders and the files we generate.  Not the reports we output nor the policy we get others to comply to.  It's in the day-to-day interaction we have with those we work with.  It's trying to wrestle with moments like I had today, saying goodbye to a contractor whose last day worked here had just come to pass.